Argentina Filmmakers' Journal
On Independence Avenue members of the local assembly took over a closed Citibank, and set up a cultural center, community soup kitchen, and child care center. "We're trying to get the kids away from playing with guns and war games," said one young woman as children filed in for milk and cookies after school. A young man added, "The politicians told us nothing could be done, because of the crisis. But working for our community, we've done a lot." An older woman said proudly, "In just one month we've done all this, without any money, just with the will to make things better. The government has been there for years, with all its resources, and they've done nothing. If they are not going to make things happen, then please get out of the way - por favor que se vayan!"
At 10:00 on a Friday morning the main freeway approaching Buenos Aires from the south would normally be clogged with traffic, but one day we found it shut down by thousands of unemployed workers, piqueteros, demanding that the government respond to their plight. "The government should be creating jobs," said one older man. "People are dying of hunger, and they're doing nothing, nothing." A nearby woman added, "Those of us who are a little younger are fighting for our elders, because if we don't change things we'll end up in the same situation." A former machinist explained, "I had my job for 30 years, and with the privatization, I was laid off. The only way to make things better is to struggle, to take to the streets."
But piqueteros and other unemployed people didn't just hold protests to demand government help. They were working together pro-actively to build a better future. We visited a settlement in a working class suburb where hundreds of unemployed workers who had become homeless seized unused land and began building houses for their families. They also set up a community bakery and a neighborhood soup kitchen. We talked with community organizers and with women volunteers while they cooked and baked bread.
As the economy declined, many Argentine factories closed and threw their employees out on the street. But some workers refused to leave, or re-invaded the plants to continue working. We visited an ice cream factory, a clothing factory and a producer of aluminum products. At the Brukman clothing factory, workers had occupied the plant nine months before, elected new managers, and continued to produce and sell. Several months after our visit, in a major police action that brought protests from thousands, the workers were driven out of the plant. But they camped outside, continued to build public support, and negotiated with the government and former owners. In October of last year Brukman were granted legal title to the factory. Now they are back at work.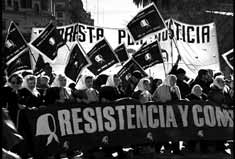 A former chief economist of the World Bank and 2001 Nobel Laureate in Economics, Dr. Joseph Stiglitz presented an overflow lecture at the University of Buenos Aires that we were able to film. He fit the Argentine experience into the global pattern of developing countries that have adopted the neo-liberal model, and urged that more than just the international lenders have claim on the wealth of the nation. "There are the pensioners," he said, "the unemployed workers, the students who also have a claim, as part of the social contract that allows society to function." By advocating for justice and civic engagement along with sound economic growth, he validated what Argentines have been saying and doing.
With citizens so mobilized, Argentina's new president, Nestor Kirchner, has been pressured to avoid any new global deals that further erode living standards. He has refused to institute the austerity measures demanded by the International Monetary Fund. The IMF finally agreed to extend additional emergency credit without the usual structural adjustment policies that have brought such pain to other countries experiencing economic reversals in the current climate of globalization. And last year, the Argentine economy grew by a healthy 8%. This year, amnesty laws for the crimes of the military dictatorship were lifted, and the leading torture center in Bueno Aires was turned into a human rights museum.
Argentines are rebuilding their society with a sense of egalitarianism, optimism, and pride that is contagious. When the crisis hit, they could have turned on each other. Instead they turned to each other in mutual support. Their experience is being followed closely in Europe and the rest of Latin America, but the story goes nearly unreported in the United States.
Northwest filmmakers Melissa Young and Mark Dworkin are currently raising finishing funds for their 80-minute documentary film, Argentina: Hope in Hard Times. Since 1986, their award-winning films have aired on PBS television stations. For more information, check out their website, www.movingimages.org.